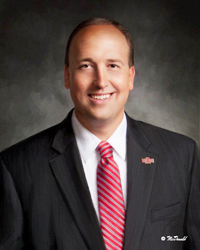 Dr. Charles L. Welch
President
April 23, 2011 - present
Education
BA, University of Arkansas
MA, George Washington University
EDD, University of Arkansas at Little Rock
Dr. Charles L. Welch serves as president of the Arkansas State University System and as one of the state's leading advocates for higher education. He is also president-elect and a member of the American Association of State Colleges and Universities Board of Directors.
Dr. Welch was named the second president of the ASU System in November 2010 and officially began his new position in April 2011. He is the youngest person to ever serve as president or chancellor of an Arkansas community college and is the youngest university president in Arkansas.
During his tenure, Dr. Welch has hired new chancellors for all five of the system's main campuses. Among the system's major expansion initiatives under his leadership are the merger of Mid-South Community College in West Memphis; the August 2016 opening of NYIT College of Osteopathic Medicine at Arkansas State; and fall 2017 opening of a $100 million privately funded A-State campus in Queretaro, Mexico. Additionally, the ASU System office was relocated to Little Rock and expanded to enhance its statewide exposure and position in higher education leadership at the State Capitol.
He is co-chair of the executive council of the Arkansas Department of Higher Education. He previously served as president of Henderson State University, chancellor of the University of Arkansas Community College at Hope; vice chancellor for academic affairs at ASU-Beebe; and dean of university studies at Pulaski Technical College. Dr. Welch also worked at the University of Arkansas at Little Rock and has served as an instructor of education and political science at three different colleges in Arkansas.
A native of Jonesboro, Dr. Welch was a first-generation college student and the first member of either side of his extended family to receive a graduate degree. He received a Bachelor of Arts degree in political science from the University of Arkansas, where he served as president of the student body. He received a Master of Arts degree in political management from George Washington University and a Doctor of Education degree in higher education administration from UALR.
Dr. Welch is past president of the Arkansas Association of Two-Year Colleges and served as chairman of the board of the Arkansas Association of Public Universities. He is a former board member for the Arkansas Sheriffs' Youth Ranches, and was inducted into the Arkansas Boys State Hall of Fame. AY Magazine named Welch as one of the "Powerful Men of 2013", and in 2005, Arkansas Business selected Welch to "40 Under 40," which profiled 40 "intriguing business and political leaders under age 40." His experience in the governmental affairs arena includes serving as a White House intern and on the staffs of U.S. Sen. David Pryor and then-U.S. Rep. Blanche Lincoln.
Dr. Welch and his wife, Mandy, are the parents of three daughters: Wheatley Grace, Emma Caroline, and Ava Claire.
---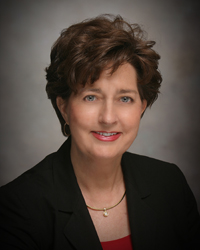 Pam Kail
Executive Assistant to the President
1991 - present
Education
Arkansas State University