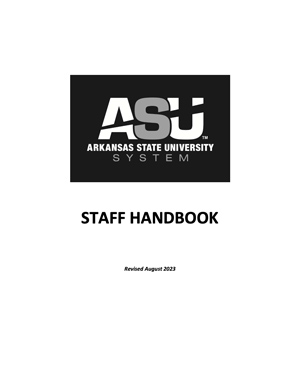 The Arkansas State University System Staff handbook outlines policies and procedures for all system staff. Staff members are expected to read to read the handbook and be familiar with content. The handbook outlines ASU System policies and procedures; however, it is impossible to anticipate every employment situation that may arise.
The ASU System Staff handbook and individual campus faculty handbooks only summarize our policies. Handbooks do not constitute a contract for employment with Arkansas State University, either express or implied, and Arkansas State University reserves the right at any time to change, delete, or add to any of the provisions at its sole discretion without notice. Furthermore, the provisions of handbooks are designed by Arkansas State University to serve as guidelines rather than absolute rules. Exceptions may be made from time to time on the basis of particular circumstances. If at any time you have questions, please contact your supervisor or your Human Resources Department.
Links to faculty handbooks are available on each campus website.