Governor's Funding, Alumna's Gift Will Uplift A-State Women's Leadership Center
12/13/2022
JONESBORO, Ark. – Thanks to the support of Governor Asa Hutchinson and an additional anonymous benefactor, Arkansas State University will make significant enhancements to the programs of its Women's Leadership Center.
As an action item from Governor Hutchinson's Commission on the Status of Women last Thursday, A-State received $200,000 in support to create an Arkansas Delta Women's Leadership Academy. On Monday, Chancellor Todd Shields thanked Gov. Hutchinson and announced an additional $1 million to support the general operations of the Women's Leadership Center at A-State.
The combined support will open the door for more women across the region.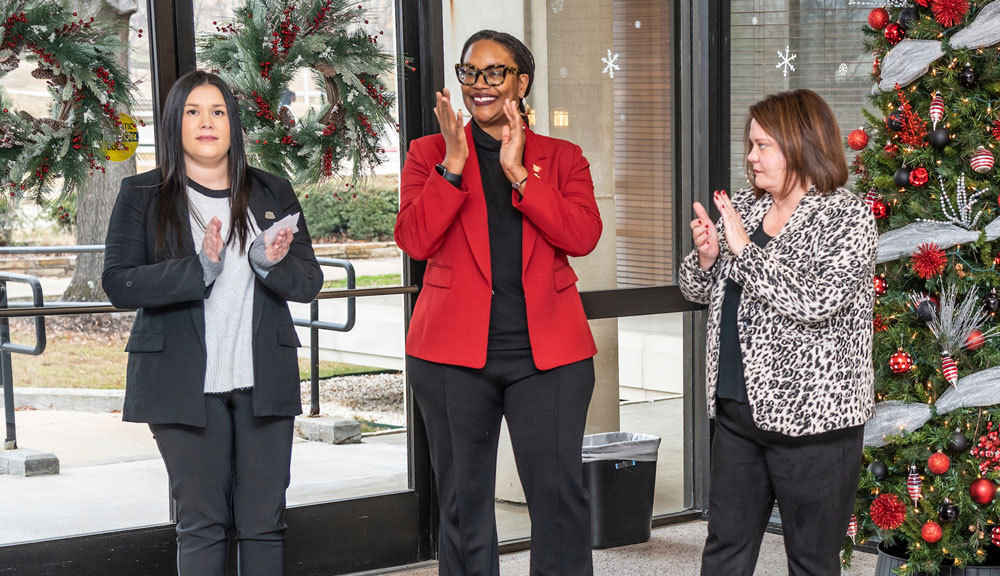 Jessica Brogdon (from left), a senior business administration major, Graduate
School Dean Cherisse Jones-Branch, and Andrea Allen, executive director of the
Delta Center for Economic Development, react to Chancellor Todd Shields'
announcement of Gov. Hutchinson's support and an anonymous donor's gift
for the Arkansas Delta Women's Leadership Academy at A-State.
"The Women's Leadership Center provides a network like no other university in the state and we are proud to have this incredible support for our students here at A-State," Shields said. "On behalf of A-State, I am so thankful of both the governor and our benefactor in providing us with these resources."
The new Arkansas Delta Women's Leadership Academy will provide mentoring and educational resources to women across the eastern portion of the state. Similar to existing programs like Leadership Arkansas or the Delta Regional Authority's Delta Leadership Academy, the new program supported by the governor will focus on women in the community.
Graduate School Dean Cherisse Jones-Branch, who also is a member of the governor's commission, expressed her enthusiasm for the center's new support.
"We're very excited about that initiative and the ways it will allow us to help women in leadership positions, and women who aspire to leadership positions, while maintaining a close connection with the Women's Leadership Center here at A-State," she said.
The new resources for the Women's Leadership Center will expand the existing mentoring program for young women to begin new campus initiatives involving more mentees and alumni mentors from various colleges in a multidisciplinary projects as well as providing leadership and mentorship programs in alliance with the university's student Leadership Center. This campus-wide effort is an expansion of the existing program to "Step Up, Reach Back, and Expand Out" in an effort to make A-State the most welcoming and friendly campus with a built in support system for those who are coming from any background and any circumstances.
"Unlike any other program, mentors meet with mentees to help them step up and realize their full potential, and the mentees reach back to help those behind them through service projects and outreach to high school and junior high students," Shields also said. "The mission of our Women's Leadership Center is cultivating confident and capable young girls and women setting and achieving high goals on their paths to college and career."
Jessica Brogdon of Paragould is a senior who has been interning with the Women's Leadership Center. She will pick up her diploma in business administration at A-State's Fall Commencement this week. After taking a six-year break, Brogdon returned to school as a non-traditional student with small children at home.
"My life is not that of an average college student. I thought this would hinder my college experience, but the WLC welcomed me from the beginning with open arms," Brogdon said. "My favorite part of the Women's Leadership Center was the mentor clusters, where we would meet over Zoom as a group of interns and mentors. I learned things about myself and other interns that helped me understand what it takes to be a good leader and all-around person."
A-State's Delta Center for Economic Development, which is led by Andrea Allen, has a long history of administering similar programs, including the Delta Regional Authority's eight-state leadership program.
"We are excited to use this experience to create a meaningful program," Allen said. "Not only will the content and curriculum of the Arkansas Delta Women's Leadership Academy be top-notch, the peer-to-peer networking will empower women for many years to come."
The Academy will solicit applications from women in the 42 Delta counties and choose a diverse cohort of women who represent all industry sectors. While the application process is still being fine-tuned, Allen encouraged interested women to look for information soon on the DCED website, AState.edu/dced.