ASU-Beebe Receives $100,000 Gift from Centennial Bank for Gymnasium Naming, Renovation
02/09/2023
BEEBE, Ark. — Centennial Bank division president Corey Williams today announced a gift of $100,000 to be used toward the Owen Center gymnasium restoration project at Arkansas State University-Beebe.
A ceremony also included the announcement that the ASU System Board of Trustees met on Jan. 30 and approved a resolution naming the facility "Centennial Bank Gymnasium" for seven years.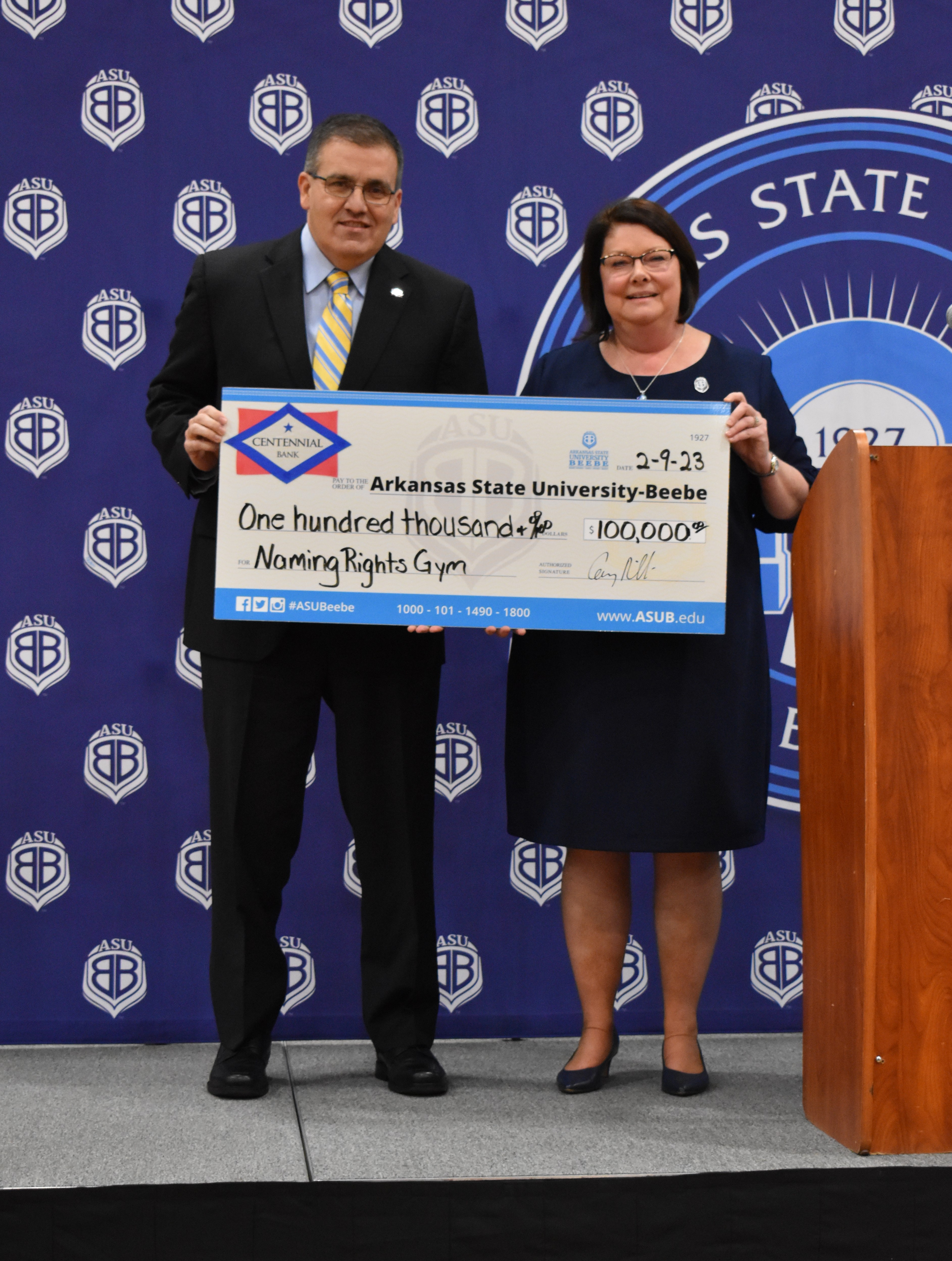 Corey Williams (left), division president of Centennial Bank, presents a check
for a $100,000 donation for the gymnasium restoration project to Dr. Jennifer Methvin,
ASU-Beebe chancellor.
"ASU-Beebe is fortunate to have remarkable community partners who invest in our work," said Dr. Jennifer Methvin, ASU-Beebe chancellor. "The much-needed update for the gym allows us to serve our communities better and provide improved recreational and learning opportunities to our students. According to our records, Centennial Bank's gift is the largest one-time capital gift for a Beebe campus project that the institution has ever received. We are grateful to Mr. Williams and to Centennial Bank for this generous gift that will have a major impact in the gym restoration project."
During the ceremony, Methvin announced that the new basketball court would be named the Jeannie Myers Lindsey Basketball Court, honoring her 37-year career at ASU-Beebe as a basketball coach. She retired in 2002 as chair of the physical education and social sciences departments. Lindsey is credited with creating and expanding the curriculum for both men's and women's physical education programs at ASU-Beebe.
The restoration of the gymnasium will include replacing the outdated gym floor with a new maple wood sports surface by Gym Masters Basketball Courts of Searcy. Also included in the restoration process will be new paint on walls and ceiling, new pads, scoreboard and benches.
The entire restoration project will cost an estimated $250,000, and a fundraising campaign is being launched to raise the remaining $150,000. In addition, corporate sponsors securing signage include ARcare, Eoff & Associates Realty, Inc. and the family of John and Robin Hayes. There are still sponsorships available.
Restoration work will begin as early as spring break in March and will continue after spring graduation in May.
The gymnasium was originally added to the Owen Center in 1982, and today an estimated 10,000 people pass through the gym annually. Over the years the gym has been used for community and recreation events, as well as ASU-Beebe events, which include high school college fairs, intramural sports, concerts and graduations. ASU-Beebe plans to grow the partnerships within the community for use of the gym.
To make a donation, visit www.GiveASUB.com/gym or contact Andrea Cole, development officer/major gifts, at aecole@asub.edu or call 501-882-8903.