ASU-Beebe Partners With Local Community, Baptist Health to Create Lonoke Business Academy
10/25/2021
Lonoke Business Academy to provide high school students with expanded career and technical training options
LONOKE, Ark. – The power of a community working together with public education, higher education, business and industry, and healthcare leaders came to fruition Oct. 25 with the dedication of the Lonoke Business Academy and the Baptist Health Family Clinic. Stakeholders gathered to celebrate the dedication of the new facilities with a ribbon cutting ceremony.
Lonoke Public School District partnered with Arkansas State University-Beebe and Baptist Health to develop the new facilities made possible by the passage of a 1.9 mill increase on March 3, 2020. The 30,000-square-foot Business Academy is connected to the 12,000-square-foot clinic that will serve as a school-based medical clinic, as well as a family clinic for the community.
"We anticipate we will see over 11,000 visits in a year at the clinic," said Troy Wells, Baptist Health CEO.
The clinic will also support the medical professions program of study by providing real-world applications for students interested in healthcare careers.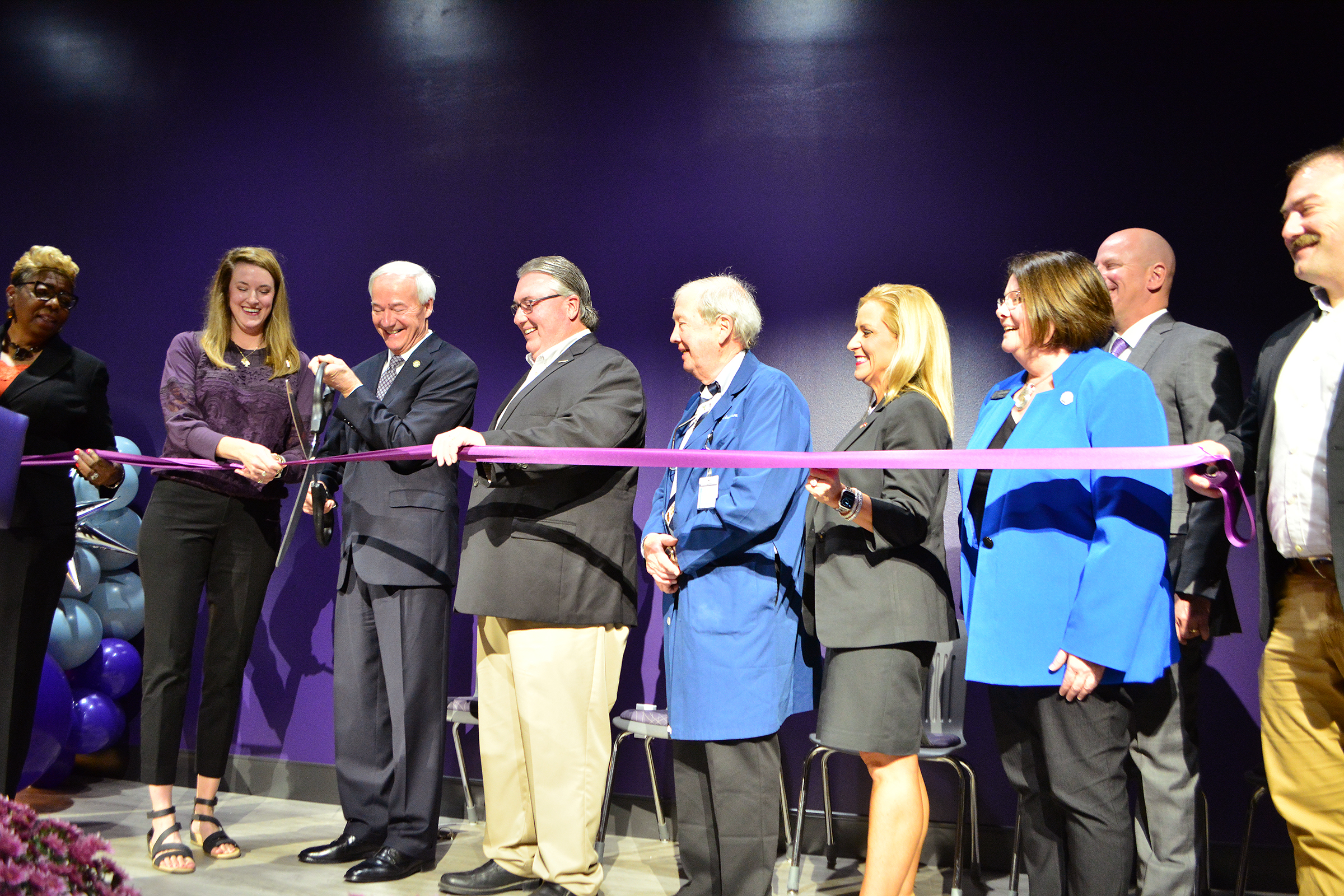 Gov. Asa Hutchinson cuts ribbon during dedication of Lonoke Business Academy.
Elizabeth Anderson, chair of the Lonoke Business Academy millage campaign, said the millage passed with a 70 percent approval rating two weeks before the national pandemic shutdown in March 2020.
"We are here to celebrate the taxpayers of Lonoke along with our partners ASU-Beebe and Baptist Health," Anderson said. "It has been my highest honor to lead the charge for these facilities, but the reaction from my own two boys as they toured these facilities is my greatest reward."
As an ASU-Beebe regional career center location, the Lonoke Business Academy will provide training in diesel technology, industrial technology, and medical professions to high school students free of charge. In addition, the Lonoke Business Academy will house programs focusing on agriculture and aquaculture. Anderson said the facility includes a greenhouse space in addition to simulation labs where students will receive applicable hands-on training. ASU-Beebe campuses in Searcy and Heber Springs also offer career and technical training as regional career centers.
Dr. Jason Goodner, ASU-Beebe Vice Chancellor for Academics, said students would be able to earn a certificate of proficiency, or in some instances, a technical certificate by the time they graduate high school. He added that students in the patient care tech program would be ready to sit for a national board licensure examination at the end of the program.
"The PCT program is also a bridge to ASU-Beebe's practical nursing program," Goodner said. He added that the Business Academy will offer concurrent credit programming for students to earn high school credits and college credits simultaneously.
Dr. Jennifer Methvin, ASU-Beebe Chancellor, said the vision for the Business Academy began with discussions with Dr. John Tackett, former superintendent for the Lonoke School District.
"The partnership with Lonoke School District already existed, but we wanted to expand those opportunities for students," she said. "When students graduate, they will have entry-level employable skills that are in demand in Arkansas and Lonoke. We are creating a pathway to career opportunities. Community colleges were conceived on the need to provide access to higher education. I am a real believer in the mission community colleges fulfill. It is very challenging, it is very rewarding, and it is very dependent on community partnerships."
Gov. Asa Hutchinson and Attorney General Leslie Rutledge attended the ceremony as special guest speakers. Rutledge noted the impact the Business Academy will have on the agriculture industry.
"The age of the average farmer is 55 and older," Rutledge said. "It's one of the largest industries in the state. We must get more young people involved in agriculture. This training facility will not only lead to success for these students, but that success will bleed across the state of Arkansas."
Hutchinson noted the critical need the Business Academy will fill in conjunction with the medical clinic.
"It's all about providing options for our young people," the governor said. "Young people want a career that they enjoy and that brings value and dignity to their lives. This center will give young people the option to find their passion and work they enjoy, and if they have that, they will enter the workforce and remain in the workforce."
For more information about ASU-Beebe programs, call (501) 882-3600 or visit the website at www.asub.edu.
Arkansas State University-Beebe is an operationally separate, two-year institution of the Arkansas State University System. With campuses located in Beebe, Heber Springs, Searcy, Little Rock Air Force Base, and online, ASU-Beebe offers associate degrees, certificates, and non-credit training for business and industry.