ASU-Beebe Chancellor McKay to Retire After 50 Years of Service
01/06/2016
BEEBE, Ark. – Dr. Eugene McKay, chancellor at Arkansas State University-Beebe, will retire in January 2016 after 50 years of service to the institution. There will be a reception given in his honor on Friday, Jan. 8, 2016 from 1 p.m. to 4 p.m. at the Student Center.
McKay has led the university for more than 20 years as chancellor, and before that he has served in various roles from instructor to administrator.
Born in 1941 to a farming family in Amagon, McKay says he learned an appreciation for hard work at an early age. "We worked daylight to dark. We would milk the cows, eat breakfast, and head to the fields to chop or pick cotton," said McKay. "I learned that once you start something, you don't quit."
Along with his older brother and younger sister, McKay attended small rural schools at Amagon, Wiona, and Charlotte. "Three things have helped me throughout my life - the value of hard work, endurance, and setting goals," said McKay. "I have used these in all my life experiences."
McKay's journey in education began during high school at Bradford. He excelled in English, writing, and reading. During that time, McKay had the opportunity to meet with a recruiter at Lyon College (formerly Arkansas College) in Batesville, who suggested that he sign up for classes. With no money to attend college, McKay said the recruiter helped him get a job on campus to pay for his classes. "I relate to the sacrifice and struggle many students experience in getting a college degree," said McKay. "Education changed my life. I was the only one in my immediate family to attend college. We didn't realize there were other options available."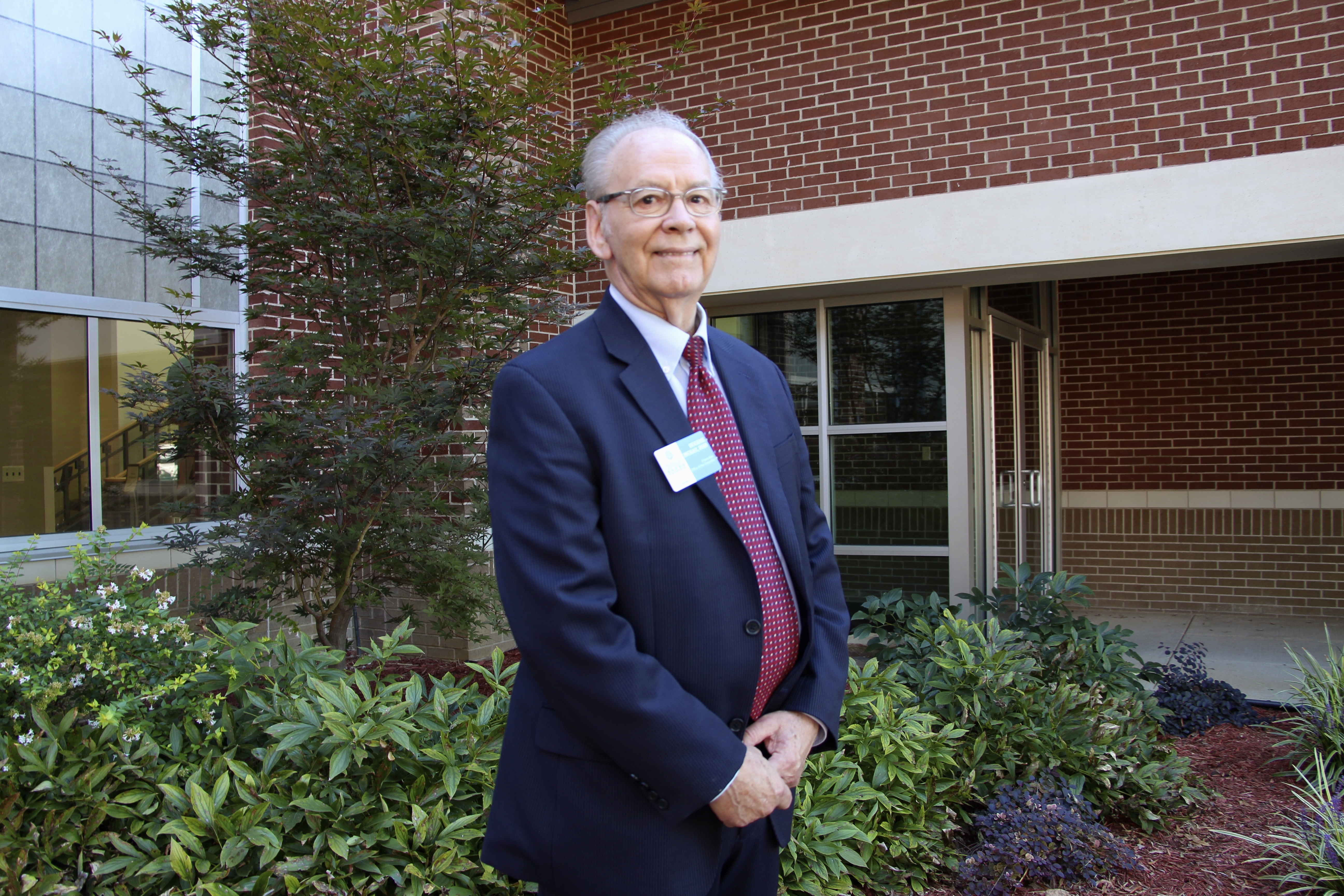 ASU-Beebe Chancellor Eugene McKay to retire after 50 years' service.
At Lyon College, McKay received a bachelor's degree in English in 1964. He then taught high school English and French at Alton, Missouri for two years before teaching English and French at Arkansas State University-Beebe (formerly ASU-Beebe Branch) from 1966 until 1987. McKay said it was ironic that French was his minor in college, but was the reason for every job he obtained during those early years of teaching.
McKay, along with his wife, the late Dr. Judy McKay, also served as residence hall parents at ASU-Beebe in the former men's dormitory, Quapaw Hall. One of the conditions of his employment as an instructor was that he had to earn a master's degree. In 1968, McKay earned a master's degree in English from the University of Arkansas. Then, in the early 1970's, he and his wife attended the University of Mississippi, and both completed doctorates in English.
McKay obtained 15 additional hours of journalism during the summers of 1984 to 1986 at the University of Arkansas at Little Rock, and in addition to teaching, he also served as a journalism advisor at ASU-Beebe. "I don't know why I became a teacher, but I had a desire to help people make their lives better," said McKay.
McKay entered the administrative field in 1987 when he became vice chancellor for Academic Affairs. Then, in 1994, with the unexpected death of Chancellor William (Bill) H. Owen Jr., McKay accepted the chancellor position in 1995. "I didn't want to be an administrator, and I certainly didn't want to be the chancellor, because I felt teaching was the best way to help people with their education. But I have seen my work and mission as the same." In his administrative roles, McKay has been able to lead the institution's change in standards and curriculum.
Dr. McKay reflected over his years and the changes he has seen in the institution. McKay gives credit to a team of administrators and division leaders, who have successfully led the institution over the years. "The Little Rock Air Force Base campus was established in 1965, the year before I came. They are celebrating their 50th year this year," said McKay.
Under Dr. McKay's leadership, the university enrollment has grown from 2,800 in 1995, to 6,347 students during the past academic year. McKay noted that this past academic year, the university had scored first in success rates among all public universities in the state, the highest among two- and four-year institutions. The rates are an indication of student success as determined by the Arkansas Department of Higher Education, based on whether students were still in college, had graduated, or transferred to another college.
In 1999, ASU-Heber Springs was established as a result of legislative Act 426, which established funding for the campus as a center of ASU-Beebe. Construction on the more than $16 million Heber Springs campus at the base of Sugarloaf Mountain was completed in 2007, which consists of the Academic Center and Student Services/Administration Building. Then, in 2001, ASU- Newport became a stand-alone campus after ten years as a branch campus under ASU-Beebe.
In 2003, ASU-Beebe merged with Foothills Vocational Institute and was renamed ASU-Searcy. Since the merger, ASU-Searcy has experienced a 46 percent enrollment increase, which has allowed additional technical and degree programs to be offered over the years. "Over 1,600 students each semester are pursuing technical certification at the Searcy campus, many of which stay and pursue a degree program," said McKay.
During McKay's administration, more than 40 buildings on all campuses have either been constructed or renovated. In addition to the construction of the ASU-Heber Springs campus and more than $8 million in renovation and program upgrades at the ASU-Searcy campus, major additions over the years have included the Student Center in 2001, the Science Building in 2007, and two residence halls in 2011. The University Farm experienced major storm damage in 1999, and the farm now includes several multi-purpose buildings for instruction, a demonstration barn and corrals, and a greenhouse.
One of the first programs McKay helped implement as chancellor was a partnership with John Deere to acquire the Agriculture Equipment Technology program in 1995. The university sought legislative support to garner the $135,000 to start the program. The John Deere Ag Tech program has since grown into the largest John Deere program in the U.S. and Canada. Also, in 2001, the Advanced Studies programs through Arkansas State University was established, which provides baccalaureate and master degree programs on the Beebe campus.
Another unique program for the university was Veterinary Technology, which was established in 2007. "We were selected after a legislative inquiry based on our central location in serving several states, as well as students could get the required advanced science classes toward their associate degree," said McKay.
Other programs established over the years have included the Advanced Technology/Allied Health (formerly Arkansas State Technical Institute) in 1987. The department oversees the Medical Laboratory Technology, Computer Systems Networking Technology, Computer Aided Drafting and Design, and the Pharmacy Science Technician.
Additionally, the university offers the only Associate of Fine Arts degree among two-year universities in the state. The Arkansas Shakespeare Festival was founded on the ASU-Beebe campus in 1966 and is one of the oldest continuous educational Shakespeare festivals in America.
Students can also obtain an entire associate degree online. Approximately 1,400 students are enrolled in online coursework. "We've come a long way since obtaining the first computer on campus in the mid-80s," said McKay. "You have to be flexible, innovative, and willing to keep up with new courses and programs in demand."
In 2014, the Agriculture Department was recognized as one of six programs nationwide that received the National Association of Agricultural Educators (NAAE) Outstanding Postsecondary/Adult Agricultural Education program award. Successful programs at ASU-Heber Springs and ASU-Searcy include practical nursing, welding technology, and this past year, both campuses have added Multi-Skills Technology.
Additionally, ASU-Beebe has received accolades in recent years such as the Aspen Award, which placed the university in the top ten percent of U.S. two-year colleges based on retention and graduation rates, and State University.Com listed ASU-Beebe as the safest college in the U.S. for several years, which was based on the CleryAct reporting. The university has also been designated as a Military Friendly School. "This is the merit of a two-year college versus a four-year. We are focused on teaching, not research. Student success is our mission," said McKay.
McKay mentioned that the community and political support over the years has been a key factor in university growth, which began with 150 students in 1955 to being given state university status in 1966. He noted that the freeway extension past Cabot in the early 70s provided central access for many seeking a college education. He continues to value the community partnerships he has helped develop over the years.
McKay serves on the Beebe, Cabot, and Searcy Chambers of Commerce. He was president of the Beebe Chamber of Commerce from 2003 to 2004 and is recipient of the Beebe Chamber of Commerce Lifetime Achievement Award. This year, the Beebe Chamber of Commerce presented McKay with the ASU-Beebe Educator of the Year Award. He continues to serve on several boards, including Unity Health (formerly White County Medical Center) and United Way of White County.
In addition to serving on the board of Arkansas Community Colleges (formerly Arkansas Association of Two-Year Colleges), McKay has chaired the ACC Presidents and Chancellors Division. McKay received the 2015 Outstanding Faculty award at the ACC fall conference.
McKay has also served on the Advancing White County Steering Committee, and is an active member of the Beebe Lions Club, receiving the Edwin Dalstrom Distinguished Service Award in 2004. He has been an active member of the Beebe First United Methodist Church, having held many board positions over the years.
In the early 1980's, McKay wrote proposals and received grants from The Arkansas Endowment for the Humanities to collect a bibliography of Arkansas literature, and served as First Reader for August House, a non-profit publisher promoting Arkansas literature. In 2002, he received the Partner in Adult Education Award.
McKay looks forward to retirement and spending more time with his grown sons Shaun, Kevin, and Robert and their families. "I want to be able to see each of my 11 grandchildren achieve their education," said McKay.
Even though McKay plans to attend fewer meetings during retirement, he will continue his involvement in several community service groups. He also plans to oversee the Dr. Judy McKay scholarship, established by family and friends to honor his wife who died in 2013 of breast cancer. His wife was a retired associate professor of English and former director of the Learning Center at ASU-Beebe. This fall, the first recipient was awarded the scholarship. "We both loved reading and teaching English," said McKay. "Judy would have been happy that the scholarship will help others achieve their education."
An avid gardener, McKay will most likely be found tending flowers at his home in the Stoney Point community. Additionally, McKay and his sister, who was born on his second birthday, are planning a cruise. "I might even read a few 'boring books' that nobody else wants to read," McKay quipped.
ASU System President Dr. Charles Welch, who worked with Dr. McKay as vice chancellor for Academic Affairs for several years, stated: "Words cannot adequately express the impact Dr. Eugene McKay has had on my life and on higher education in Arkansas. He has devoted his entire life to helping people achieve their dreams. His commitment to high quality higher education is remarkable and to be commended. Personally, he has been a mentor and friend to me. His trust and confidence have allowed me to experience outstanding opportunities in my own professional career. His integrity is beyond reproach, and after 49 years in higher education he still enjoys an incredible reputation. Simply stated, Eugene McKay is a good man who has done extraordinary work in his life. While he will certainly be missed after retirement, his legacy will live on for many years to come in the countless lives he has touched."
At the ASU System Board of Trustees meeting in December, the Student Center at ASU-Beebe was renamed the Dr. Eugene McKay Student Center in recognition of his 50 years of service to the institution.
Over the past 50 years, McKay has most certainly impacted countless lives both in and out of the classroom. "I was a C+ student in high school, but the recruiter at Lyon College believed in me," said McKay. "I have enjoyed my work and helping people achieve their goals. I believe if you love your job, you don't ever have to work."