Welch Appointed to State Recovery Task Force as ASU System Addresses Covid-19 Challenges
04/20/2020
LITTLE ROCK – Arkansas State University System institutions continue ongoing measures to address safety and financial challenges and planning presented by the Covid-19 pandemic, System President Chuck Welch said today.
Welch will also help advise Gov. Asa Hutchinson in the state's planning to return the economy to normal. The governor appointed him to the newly established Arkansas Economic Recovery Task Force, which includes 27 members representing state government, industry, small business, outdoor recreation and sports. Steuart Walton of Bentonville, a member of the Walmart board of directors, will chair the group.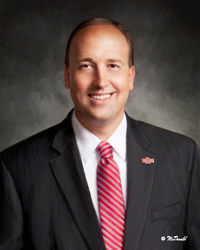 Dr. Chuck Welch, Arkansas State University System President
"These are unprecedented times for everyone," Welch said. "Our institutions are doing everything possible to continue our educational mission and make good financial decisions. I'm really proud of our students and faculty for adapting to the sudden changes, and for our administrative team and staff who are keeping our campuses operational and pressing forward under difficult circumstances.
"The health and safety of our students and employees are paramount to our decision-making, but I also know Arkansans are very anxious about their economic future," Welch said. "The ASU System and the governor's task force will work hard to address this balance. I appreciate the governor's ongoing commitment to higher education and for his trust in me to serve in the state's recovery efforts and advising in significant decisions we all have ahead of us."
ASU System institutions, which have all transitioned to online class delivery for the rest of the spring semester and at least the first summer term, are preparing budgets for FY2021, and these will be considered by the ASU System Board of Trustees at its June 4 regular meeting.
Welch has asked chancellors to prepare budgets with no tuition or fee increases for fall 2020. Additionally, institutions will not budget funds designated in Category C or D in the Revenue Stabilization Act. That total for the ASU System is more than $9 million, including almost $6 million for A-State. This is approximately a 10 percent reduction in state funding for FY2021.
The ASU System's six institutions are addressing a collective $4.8 million in state revenue reductions between now and June 30. They have determined that at this time, no employment reductions or use of reserve funds will be required to achieve the funding reductions for FY2020.
Arkansas State University in Jonesboro will achieve its budget cuts through reductions in travel, supplies and services, and utility expenses, as well as used of unused capital balances, unbudgeted Educational Excellence Trust Fund revenues, and "carry forward" funds from various departments. The two-year institutions are implementing similar measures, as well as savings from unfilled salaried positions, reduction of contingency funds, and unused part-time labor.
ASU System institutions have been allocated $15,250,867 under Section 18004(a)(1) of the Coronavirus Aid, Relief, and Economic Security (CARES) Act. The minimum allocation to be awarded for emergency financial aid grants to students is half the amount, or $7,625,433. Of those system totals, Arkansas State University in Jonesboro will receive $9,258,158 with $4,629,079 for emergency financial aid to students.

The campuses not yet received any of these funds, which will be less than the state budget cuts.