Construction Begins on Windgate Center for Three-Dimensional Arts at A-State
09/18/2020
JONESBORO, Ark. – Construction is under way for the new $7 million Windgate Center for Three-Dimensional Arts at Arkansas State University. While a traditional groundbreaking ceremony was not feasible, Chancellor Kelly Damphousse released the architect's renderings of the new facility as a way to celebrate the start of the project this fall.
"In the age of coronavirus, we have to make adjustments to everything we do, but we do not let this change dampen our enthusiasm and spirit for projects like this," Damphousse said. "We might not have a traditional groundbreaking now, but I know we will have a wonderful ribbon cutting ceremony when we open this facility in 2021. I know the great value art has for our society, and for our souls. Right now, forging ahead with construction is important. It allows us to fulfill our commitment to partner with our friends at Windgate Foundation to create a space that will touch students and our region for decades."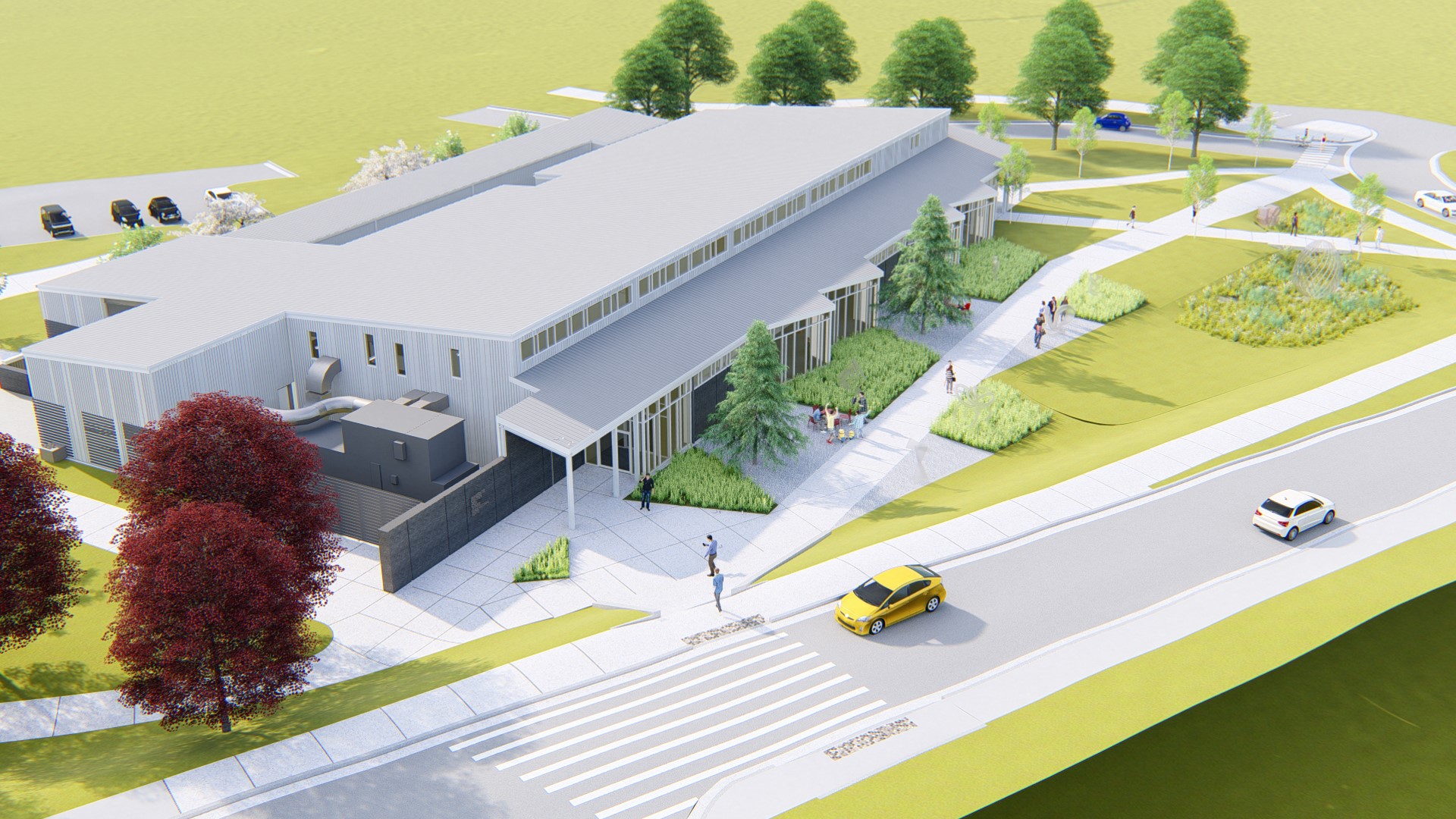 Architectural rendering of $7 million Windgate Center for Three-Dimensional Arts under construction at Arkansas State University.
Under construction near the existing Fine Arts Center, principal funding was provided by a gift from the Windgate Foundation. The estimated completion date is April 2021.
The ASU System Board of Trustees approved resolutions on Sept. 18 authorizing the naming of the Windgate Center for Three-Dimensional Arts and the Rea Charitable Trust Student Studio in the Windgate Center. The Windgate Foundation provided a $6.7 million grant, and the Rea Charitable Trust contributed $30,000 toward the studio.
"Although we will miss celebrating the groundbreaking with you in person, we are with you in spirit as you virtually celebrate the day," Pat Forgy, executive director of the Windgate Foundation said. "We are excited to see the building begin to take shape over the next months and know having this new facility will greatly benefit 3-D art students with improved space and equipment."
"I have heard it said the buildings we create inspire us," Dr. Carl Cates, dean of the College of Liberal Arts and Communication, said. "I am pleased to see ground broken on this new 3-D facility. This building promises to inspire our students. Thank you again to the Windgate Foundation for their support."
"Art + Design is thrilled to be another step closer to the completion of our new facility," Dr. Temma Balducci, chair of the Department of Art + Design, said. "The state-of-the-art center will have a positive impact on our department in countless ways from recruiting to community engagement."
Among the key amenities of the 21,900-square-foot facility are new areas for creation of sculpture in the traditional sense, including foundry areas for casting, but also new methods of creation of dimensional artwork like 3-D printing.
"We're especially excited about the new opportunities it will create for our students including increased exhibition space for both students and visiting artists, studios for advanced students, and access to new materials and techniques that have not been feasible in the past," Balducci said. "Thanks to the generosity of the Windgate Foundation, Art + Design will have a bigger impact in the region and the state."
The new building will contain studio spaces for ceramics, metal working, sculpture and wood working, replacing outdated areas currently in the Fine Arts Annex building. A long lobby space connects the studio areas and looks out onto a sculpture garden area through full-height glass windows that blend the exterior and interior spaces.