AASCU Elects ASU System President Welch as Chair of National Board of Directors
10/30/2019
PHOENIX — Dr. Charles L. Welch, president of the Arkansas State University System, assumed the chair of the American Association of State Colleges and Universities' (AASCU) Board of Directors during the association's Annual Meeting here Tuesday.
The American Association of State Colleges and Universities (AASCU) is a Washington, D.C.-based higher education association of nearly 400 public colleges, universities and systems whose members share a learning and teaching-centered culture, a historic commitment to underserved student populations and a dedication to research and creativity that advances their regions' economic progress and cultural development.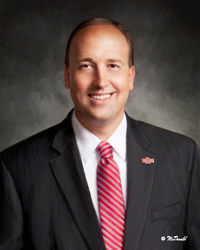 Dr. Charles L. Welch, ASU System President
and Chair of AASCU Board of Directors
Welch has been president of the ASU System since April 2011. Major initiatives under his leadership include the opening of a $100 million privately funded Arkansas State campus in Queretaro, Mexico; the merger of Mid-South Community College in West Memphis; the pending merger of College of the Ouachitas in Malvern; and relocating the ASU System office to Little Rock to enhance its statewide exposure and position in higher education leadership. He also serves as co-chair of the executive council of the Arkansas Department of Higher Education.
"It is my honor and privilege to serve as chair of the AASCU Board of Directors at such a pivotal time in public higher education," Welch said. "The promise of America is inextricably linked to AASCU institutions and the students we serve. I am committed to supporting AASCU's strong public policy efforts and the transformative work of our AASCU institutions. I look forward to advancing these critical efforts."
A native of Jonesboro, Ark., Welch was a first-generation college student and the first member of either side of his extended family to receive a graduate degree. Prior to leading the ASU System, Welch served as president of Henderson State University and chancellor of the University of Arkansas Community College at Hope.
Welch graduated from AASCU's New Presidents Academy in 2008, is a member of AASCU's Rural Coalition, and served as a key presenter during AASCU's 2018 Spring Symposium on Strategic Planning. He has served on AASCU's board since 2016.
Also at AASCU's Annual Meeting, Ramon S. Torrecilha, president of Westfield State University (Mass.), was appointed chair-elect of the board; he will serve as chair in 2021. The following presidents and chancellors will serve on the AASCU Board of Directors in 2020:
Past Chair:
F. Javier Cevallos, president, Framingham State University (Mass.)
Secretary-Treasurer:
Cynthia Teniente-Matson, president, Texas A&M University-San Antonio
Newly elected directors include:
Laurie A. Carter, president, Shippensburg University (Pa.)
Kristin Esterberg, president, State University of New York at Potsdam
Richard Helldobler, president, William Paterson University (N.J.)

Timothy Mottet, president, Colorado State University-Pueblo
Eduardo M. Ochoa, president, California State University, Monterey Bay
Rodney D. Smith, president and CEO, University of The Bahamas
Those continuing their terms as members of AASCU's board:
Virginia Arthur, president, Metropolitan State University (Minn.)
Christopher Brown II, president, Kentucky State University
Steve M. Dorman, president, Georgia College & State University
Brian O. Hemphill, president, Radford University (Va.)
John Jasinski, president, Northwest Missouri State University
Bonita Jacobs, president, University of North Georgia
Brian Noland, president, East Tennessee State University
Linda Schott, president, Southern Oregon University
David Wilson, president, Morgan State University (Md.)